Boston Children's Museum
A History of Hands-On Exploration
Boston Children's Museum is the second oldest, and one of the most influential children's museums in the world. It was founded in 1913 by the Science Teachers' Bureau, a group of visionary educators dedicated to providing new resources for both teachers and students, as a center for the exchange of materials and ideas to advance the teaching of science.  For over 100 years it has been engaging children in joyful discovery experiences that instill an appreciation of our world, develop foundational skills, and spark a lifelong love of learning.
The Museum's exhibits and programs emphasize hands-on engagement and learning through experience, employing play as a tool to spark the inherent creativity, curiosity, and imagination of children.  Designed for children and families, Museum exhibits focus on science, culture, environmental awareness, health & wellness, and the arts. In addition to extensive child-centered exhibits, Museum educators develop numerous programs and activities that address literacy, performing arts, science and math, visual arts, cultures, and health and wellness.
Explore It Summer Camp is staffed by dedicated educators that know what it takes to create a memorable camp experience! While the dedicated camp counselors are listed below, other Boston Children's Museum educators will lend expertise to specific activities and special offerings throughout the camp week, from theater to music to dance and more!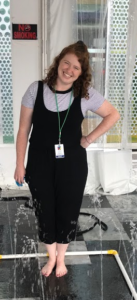 Dianne DeStefano (Lead Counselor)
 Early Childhood Educator
Dianne spent 9 years working at Camp Finberg in Norton, Ma before coming to Boston Children's Museum. In her time there, she had many roles, including Arts and Crafts Director. She can often be found in tie dye shirts doing giant collaborative art projects. She enjoys making up games, building forts, and making friendship bracelets.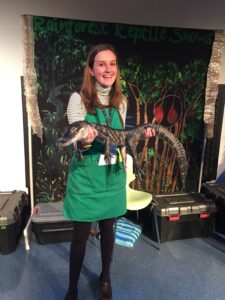 Ivy Bardaglio (Lead Counselor)
STEAM Educator
Prior to coming to Boston Children's Museum, Ivy worked at Very Merry Theatre Camp in Charlotte, Vermont for 5 years managing both campers and camp operations. Her favorite camp activities are making friendship bracelets, playing capture the flag, and creating wonderful worlds out of cardboard.
Many other Boston Children's Museum staff will also be supporting the Explore It Summer Camp effort, sharing their expertise to bring fun and exciting learning to our campers!